Introduction
Infrastructure as Code is crucial to becoming successful in the Azure Cloud. Azure Resource Manager allows you to create resources in Azure in a declarative way. For many years we have been using ARM Templates to declare resources in a JSON format. Although ARM Templates are very powerful, the implementation of the JSON language is hard to read, maintain and debug. Bicep, a Domain Specific Language, overcomes these issues by providing a transparent abstraction layer on top of ARM and ARM Templates. This significantly improves the authoring experience. Bicep is easy to understand at a glance and straightforward to learn regardless of your experience with other programming languages.
Getting started with Bicep: Infrastructure as code on Azure
Microsoft MVP Freek Berson authored a book on Bicep. This book is your guide to mastering Bicep! It contains practical solutions and examples to help you jump start your journey towards infrastructure as code on Azure!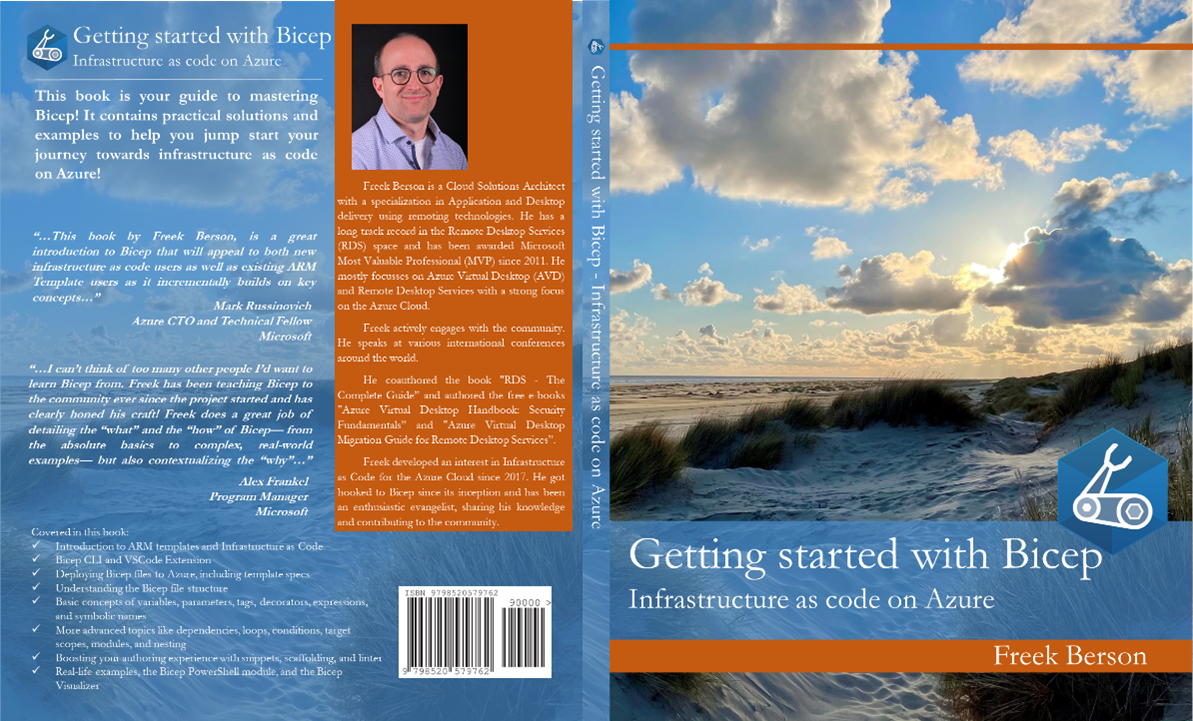 "…This book by Freek Berson, is a great introduction to Bicep that will appeal to both new infrastructure as code users as well as existing ARM Template users as it incrementally builds on key concepts…" Mark Russinovich, Azure CTO and Technical Fellow, Microsoft
"…I can't think of too many other people I'd want to learn Bicep from. Freek has been teaching Bicep to the community ever since the project started and has clearly honed his craft! Freek does a great job of detailing the "what" and the "how" of Bicep— from the absolute basics to complex, real-world examples— but also contextualizing the "why…" Alex Frankel, Program Manager, Microsoft
---
How to win a paperback version of the Bicep book?
To celebrate the festive season, Freek is giving away 2 paperback copies of the book as part of the Festive Tech Calendar 2021!
To win:
Post a tweet mentioning @fberson and the Festive Tech Calendar
- or -
Create a LinkedIn post mentioning Freek Berson and the Festive Tech Calendar
Winners Announced: On or around December 20, 2021
Winners will be contacted directly via Twitter or LinkedIn, make sure you follow Freek on Twitter or connect with him on LinkedIn.
Order your own copy?
In case you want to order the paperback or kindle version of the book yourself today, visit https://www.amazon.com/Getting-started-Bicep-Infrastructure-Azure-ebook/dp/B0984MQY2N